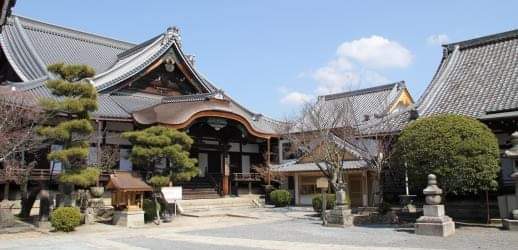 When: From Saturday, September 25@1:00pm to Sunday, September 26, 2021 @1:00pm (Japan Time)
Friday, September 24 @6:00pm – Saturday, September 25@6:00pm (Hawaii)
Saturday, September 25 @1:00am – Sunday, September 26@1:00am (Brazil)
Saturday, September 25 @6:00am -Sunday, September 26 @6:00am (Paris)
Saturday, September 25 @2:00pm – Sunday, September 26@2:00pm (Australia)
Where: http://canchiin.net/special/24fudan/watchall.htm (YouTube)                      
               http://canchiin.net/special/24fudan/ (Main)
The 10th annual "24-Hour Ceaseless (Continuous) Nenbutsu Chanting will be observed remotely via internet again this year from Saturday September 25 at 1:00pm to Sunday September 26 at 1:00pm (Japan Standard Time).   
 
The theme is "BRIGHT LIGHTS, BIG PIETY – Calling the Name of Buddha (Nenbutsu) in the Center of Kyoto".  However due to the current covid-19 situation, we ask you not to come to the temples but to participate in the live feeds as we did in Tokyo and Kyoto last year.  
 
This time, Shojokein Head Temple will be our main central base for the Nenbutsu Chanting for 24 hours.  At the same time, Kanchiin Temple and its sister temple Tamonin Temple, where the main office of 24 Hour Ceaseless Nenbutsu Association is located, will also broadcast Nenbutsu Chanting and connects live streaming from the various temples and places in Japan and other countries.   
 
Please understand we are not accepting any general participation at the main sites on that day.  Please join us online to recite "Namu Amida Butsu(bu)" together by watching the livestreaming videos from the main sites in Kyoto and from various places in the world while you are staying at home.  
 
This year, in addition to the YouTube, you can participate in this online Nenbutsu by Zoom by using your smart phone, tablet or computer.
Please click here to view the live stream or to participate in online Nenbutsu by Zoom.  
https://us02web.zoom.us/j/2131049394?pwd=QmVPQmZJOExIL2Z4bC9CRXdXWjJpQT09
https://www.youtube.com/watch?v=ZpU7pd1b8NM
If you wish to dedicate "Eko -Transference of Merit" for your beloved ones, please let us know by email, fax or mailing.    Donation (Minimum $5 for Eko) will be greatly appreciated.   
 
Contact:   24 Hour Ceaseless Nenbutsu Chanting Planning Committee  
c/o Kanchiin Temple  / 2-2-13 Shiba-Koen, Minato-Ku, Tokyo  Japan 105-0011    
Phone: 050-5809-9446    Fax: 03-3431-7807  
Email: nenbutsu24@hotmail.co.jp  
---
What is 24-hour Continuous Nenbutsu?
24-Hour Ceaseless (continuous) Nenbutsu is one of Buddhist services just to chant name of Buddha(Nenbutsu), "Namu Amida Butsu(bu)" with no breaks for 24 hours.  We'll do it by turn like relay but you may do it for 24 hours.  During the 24 hours of Nenbutsu chanting, we also do prostrations as well as circumambulation of the Amida Buddha's statue.  
 
Everyone is welcome to take part in this 24-hour Ceaseless Nenbutsu.  It doesn't matter whether you are a priest, a follower, a Buddhist or not. 
---
Live streaming over the internet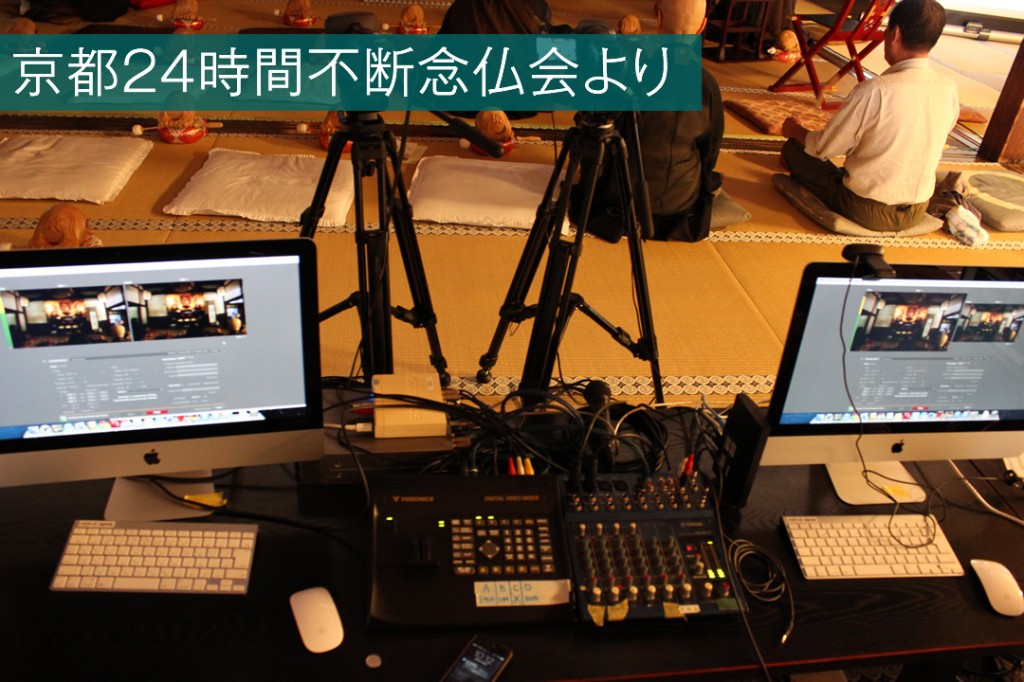 On the day, we will be live streaming the service over the internet for 24 hours.  Please join us in Nenbutsu in front of your computer, tablet or smartphone while you avoid crowds and stay in a safer place.   We plan to have a live transmission from our Nenbutsu friends from various places in the world.  You will also be able to watch this transmission alongside the live feed from Shojokein Temple in Kyoto or Kanchiin Temple in Tokyo


Schedule of Nenbutsu live streaming(subject to change)
(1) A. Main venue (Shojokein Head Temple)
      B. Every place with affiliation
(2) Around the world
 

25th September (Saturday)

12:45-13:00

Opening Service at Shojokein Head Temple

13:00-14:00

①A.Shojokein Head Temple Ohojo (Kyoto)
 B.No Broadcast (Available)
②A.Lahaina Jodo Mission (Maui, Hawaii) Rev. Gensho Hara
 B.Hamakua Jodo Mission (Big Island, Hawaii) Rev. Wajira Shunji Wansa

14:00-15:00

①A.No Broadcast
 B.Rinkaian Temple (Tama, Tokyo) Rev. Taijun Kasahara
②A.Koloa Jodo Mission (Kauai, Hawaii) Rev. Kosen Ishikawa
B.Zendoji Head Temple (Kurume, Fukuoka) Rev. Shinkin Nakano
c. Komyogakuen (Sagami, Kanagawa) Mr.Naohisa Simoguchi
D.Shoujouji Temple (Kusatsu, Shiga) Rev. Sasaki

15:00-16:00

①A.Shojokein Head Temple Ohojo (Kyoto)
 B.No Broadcast (Available)
②A.Hyakumanben Chionji Temple (Kyoto) Rev. Daichi Minami
 B.Bodaigakuen Temple (Taiwan) Kaimei Hosshi

16:00-17:00

①A.No Broadcast
B.Sennenji Temple (Ueda, Nagano) Rev. Tetsuya Fukuda
C.Kanchiin Temple (Minatoku, Tokyo) Mr.Ryudo Nakamura
②A.Kathmandu(Nepal) Rev. Milan Komyo Sheresta
B.Daihoji Temple (Echizen, Fukui) Rev. Etsuou Yoshida

17:00-18:00

①A.Shojokein Head Temple Ohojo (Kyoto)
 B.Renjoji Temple (Kyoto) Rev. Shoju Toda
②A.Saihoji Temple (Sendai, Miyagi) Rev. Hiroyoshi Oeda
    B.Sairenji Temple (Yamagata) Rev. Ryushin Ito

18:00-19:00

①A.A.Shojokein Head Temple, Amidado (Kyoto)
 B.
②A.Gohyaku Rakanji (Tokyo)   Rev. Shujo Mukushina
 

19:00-20:00

①A.No Broadcast
B.Renjoji Temple (Kyoto) Rev. Masaki Toda
②Amidaji Temple (Brisbane, Australia) Rev. Tetsuyu Wilson
19:30-20:30
Keizoin Temple (Ise, Mie) Rev. Kakuya Maejima

20:00-21:00

①A.No Broadcast
 B.Dainenji Temple (Otokunigun, Kyoto) Rev. Kodo Tachi
②A.Genkoji Temple (Matsumoto, Nagano) Rev. Shujo Ogisu

21:00-22:00

①A.No Broadcast
 B.Kokushoji Temple (Kyoto) Rev. Eyu Kidzu
②Anyoji Temple (Kobe, Hyogo) Rev. Ryosho Shimizu

22:00-23:00

①A.No Broadcast
B.Tamonin Temple (Minatoku, Tokyo) Rev. Sakai
②Raikoji Temple (Uji, Kyoto) Rev. Hojo Mukai

23:00-0:00

①(Musashimurayama City, Tokyo) Rev. Morosawa
②A.Jodo Shu European Buddhism Center (Paris, France) Rev. Mitsutaka Koso
 with (Sankt Augustin, Germany)Rev. Kōnen Büttgen 
 

26th September (Sunday)

0:00-1:00

①A.No Broadcast
B.Kanchiin Temple (Minatoku, Tokyo) Rev. Shodo Tsuchiya
② (St. Louis, Missouri ) Mr. Steven Victor

1:00-2:00

①Tamonin Temple (Minatoku, Tokyo)Rev. Sakai
②A.Ibiúna Nippoji temple (Ibiúna, Brazil) Rev. Soyu Sakurai
 B.(San Antonio, Texas) Mr. Eric Koven

2:00-3:00

① (Musashimurayama City, Tokyo) Rev. Morosawa
② Hounji Temple (Toyota, Aichi) Ms. Gahou Mizutani

03:00-04:00

①A.No Broadcast
 B.Ryusaan Temple (Shiga) Rev. Dokan Matsuda
②A.Kanchiin Temple (Minatoku, Tokyo) Rev. Shodo Tsuchiya

4:00-5:00

①A.No Broadcast
B.Tamonin Temple (Minatoku, Tokyo)Rev. Sakai
② Hounji Temple (Toyota, Aichi) Ms. Gahou Mizutani
4:30-5:30


5:00-6:00

①A.No Broadcast
B.Kanchiin Temple (Minatoku, Tokyo) Rev. Shodo Tsuchiya
②A.Rengeji Temple (Kunisaki, Oita) Rev.Koukyo Tsuruyama
 B.Kaiunji Temple(Sapporo,Hokaido) Rev.Inoue

6:00-7:00

①A.Shojokein Head Temple Ohojo (Kyoto)
B.Dainenji Temple, (Otokunigun, Kyoto) Rev. Kodo Tachi
②A.Curitiba Nippoji temple (Curitiba, Brazil) Rev. Kogi Oeda
 B.(McKinney,Texas) Rev. Thich Tam Tien

7:00-8:00

①A.No Broadcast
 B.Renjoji Temple (Kyoto) Rev. Shoju Noborita
②A.Getsueiji Temple (Musashino, Tokyo) Rev. Masashi Fujii

08:00-09:00

①A.Shojokein Head Temple Ohojo (Kyoto)
B.No Broadcast (Available)
② Choshoji Temple (Oita) Rev. Hideyuki Imai

9:00-10:00

①A.No Broadcast
 B.Kanchiin Temple (Minatoku, Tokyo) Mr.Ryudo Nkamura
②Konkaikomyoji  Grand Head Temple (Kyoto) Rev.Koki Kawahara

10:00-11:00

①A.Shojokein Head Temple Ohojo (Kyoto)
② Chionin Grand Head Temple (Kyoto) Rev.Sawai

11:00-12:00

①A.No Broadcast
 B.Kokushoji Temple (Kyoto) Rev. Eyu Kidzu
②Komyoji Temple (Hirakata, Osaka) Rev. Tokuho Haneda
Komyo Gakuen (Sagami) Mr.Naohisa Simoguchi

12:00-13:00

①A.Shojokein Head Temple Ohojo (Kyoto)
 B.No Broadcast (Available)
②A.Zenkoji Fuchinobo (Nagano) Rev. Wakaomi
 B.Sennenji Temple (Ueda, Nagano) Rev. Tetsuya Fuku
---
Schedule (subject to change)
25th September 2021 (Saturday)
12:15

Reception opens

12:30

Orientation

12:45

Opening prayer, kaibyaku

13:00
 

24-hour Continuous Nenbutsu begins – from this point on it continues non-stop for 24 hours
26th September 2021(Sunday)
13:00
 

1Closing service (includes merit-transference &acknowledgements)

14:00

End of the event
---
Contact Us
Contact:   24 Hour Ceaseless Nenbutsu Chanting Planning Committee  
c/o Kanchiin Temple  / 2-2-13 Shiba-Koen, Minato-Ku, Tokyo  Japan 105-0011    
Phone: 050-5809-9446    Fax: 03-3431-7807  
Email: nenbutsu24@hotmail.co.jp