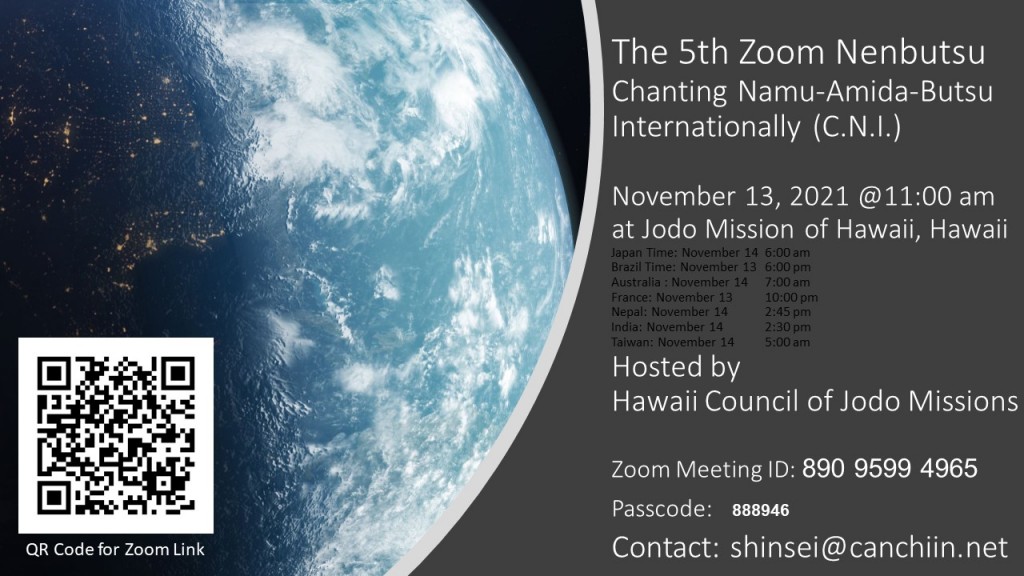 Saturday, November 13, 2021
from 11:00 am to 12:00 noon (Hawaii)
(Japan Time: Sunday, November 14 from 6:00 am to 7:00 am)
Hosted by Hawaii Jodo Shu (Hawaii Council of Jodo Missions)
Supported by 24 Hour Ceaseless Nenbutsu Chanting Practice Office
Zoom Link:
https://us02web.zoom.us/j/89095994965?pwd=bndnOWlIZUM5WWhPRmpmVnZ2dnd3UT09
Meeting ID: 890 9599 4965
Passcode: 888946
Thanks to the support and cooperation by our Dharma friends who have joined in the "24 Hour Ceaseless (Continuous) Nenbutsu Chanting", we were able to launch "Chanting Namu Amida Butsu Internationally (C.N.I)" by zoom.
"24 Hour Ceaseless Nenbutsu Chanting" has been conducted twice a year at mainly two locations but this Zoom Nenbutsu is held online by Zoom every other month hosted by different sites in the world.
Since the 1st Zoom Nenbutsu was observed in November, 2020, we are very happy to announce to hold this 6th Zoom hosted by Hawaii Jodo Shu in Hawaii on November 13 from 11:00 am to 12:00 noon (Hawaii Standard Time). Anyone who can access to the internet can participate in this Zoom Nenbutsu for free. Please join in the Zoom link below according to your local time and let us chant "Namu Amida Bu(tsu)" together.
Hosted by Hawaii Jodo Shu (Hawaii Council of Jodo Missions)
Coordinator: Bishop Kosen Ishikawa (Email: kosenishikawa@hotmail.com)
The date and time: Hawaii, Saturday, November 13, 2021 at 11:00 am
                                     * Times around the world are as follows
        Japan time: November 14, 2021 at 6:00 am
        German Time: November 13, 2021 at 10:00 pm
        Australia Time:  November 14, 7:00 am
        Taiwan Time:  November 14, 5:00 am
        Brazil time: November 13, 6:00 pm
        Nepal Time: November 14, 2:45 pm
        India Time: November 14, 2:30 pm
        Hawaii Time: November 13 4:00 am
Zoom Meeting
Meeting ID: 890 9599 4965
passcode: 888946
https://us02web.zoom.us/j/89095994965?pwd=bndnOWlIZUM5WWhPRmpmVnZ2dnd3UT09
Nenbutsu Practice Schedule
January Busshinji Temple (Bud Gaya, India & Kathmandu(Nepal)
Rev. Ryosho Shimizu & Rev. Milan Komyo Sheresta
March Curitiba Nippakuji Temple (Curitiba, Brazil)
May Zojoji Temple (Tokyo, Japan) *24 Hour Ceaseless Nenbutsu Chanting
July Jodo Shu European Buddhism Center
September Shojokein Temple (Kyoto, Japan)
*24 Hour Ceaseless Nenbutsu Chanting
November Jodo Mission of Hawaii (Honolulu, Hawaii)